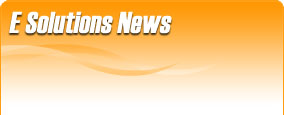 Visio Book

The foldable desktop magnifier - Magnify your reading material where ever you want!
Esolutions Offering independent living products for blindness, low vision, deaf, hard of hearing, disabled.

Next Generation - Perkins Brailler

Telephone Operator Console Solutions for Blind and Visually Impaired



مرحبا بكم في شركة الحلول الالكترونية
Welcome to E-Solutions
E-Solutions Co. is one of the leading company specializing in the IT " Hardware, Software, Blinds & visual Impairment Technologies , Education and Special needs Technology" with Focus on the Qatar and Middle East who have designed , development. And successfully implemented software products for major companies. E-Solutions methodology and experience in the design and development is drawn up from international standards which have been modified to suit the Middle East Environment. E-Solutions is one of the companies where concentration have been done on software design and development .It has provided complex application for a number of vertical markets such Government , banking and investment , Manufacturing , Business, distribution System, Maintenance , and Transport Systems. All Software products are fully developed and owned by E-Solutions and partners, with resources currently available at E-Solutions . We have developed a talented team of professionals who have worked in related fields prior to them joining E-Solutions . This adds to the strength of the E-Solutions development staff.
NetSupport Products

For the last 25 years NetSupport has been at the forefront of developing innovative solutions to aid in the management of desktop computers and their users. NetSupport products are available in over 90 countries worldwide and currently support over 13 million desktops, servers and mobile devices. All our products are available to download and try in your own environment without obligation and we will be happy to assist you with any questions you might have.

| | | |
| --- | --- | --- |
| | | ETS is a team of education experts, researchers and assessment developers who believe that, through learning, people can improve their situations in life and make incredible contributions to the world. We also believe that by designing our assessments with industry-leading insight, rigorous research and an uncompromising commitment to quality, we can advance equity and help education and workplace communities make informed decisions about people and programs. |
We are proud to announce that ucmas qatar become official partner for KenKen Puzzle in Qatar ,
Now, the students of Qatar can enjoy the rewards of competitive puzzling and compete with the rest of the world! with ucmasqatar

you can visit our website

www.kenkenqatar.com

| | | |
| --- | --- | --- |
| | | For more than 30 years the TOEIC® test has been the global standard for measuring workplace English-language communication skills. The TOEIC assessment family, including the TOEIC® Listening and Reading test, the TOEIC® Speaking and Writing tests and the TOEIC Bridge™ test are used by nearly 14,000 businesses, organisations, and government agencies in 150 countries around the world. |
U C MAS (Universal Concept of Mental Arithmetic System)Wish to discover the genius within your

child? is your child aged 4-12?

| | | |
| --- | --- | --- |
| | | Esolutions is Distributor and reseller to many Blind Products Company such as Baum , Index, Viewplus with good corperation with visiotech company |
| | | | |
| --- | --- | --- | --- |
| | | | |